Commodities are forging a record-setting run of gains that straddles the end of 2017 and the start of the new year as crude oil notches multiyear highs and investors bet that booming global manufacturing output will help to sustain rising demand for raw materials.
The Bloomberg Commodity Index, which tracks returns on 22 raw materials, posted an unprecedented 14 days of gains to Wednesday, closing at the highest since February. The index is poised for further gains as metals and oil climb higher, supported by supply disruptions, a weaker dollar and improving demand. Palladium, a metal used in car exhaust systems, is approaching an all-time high.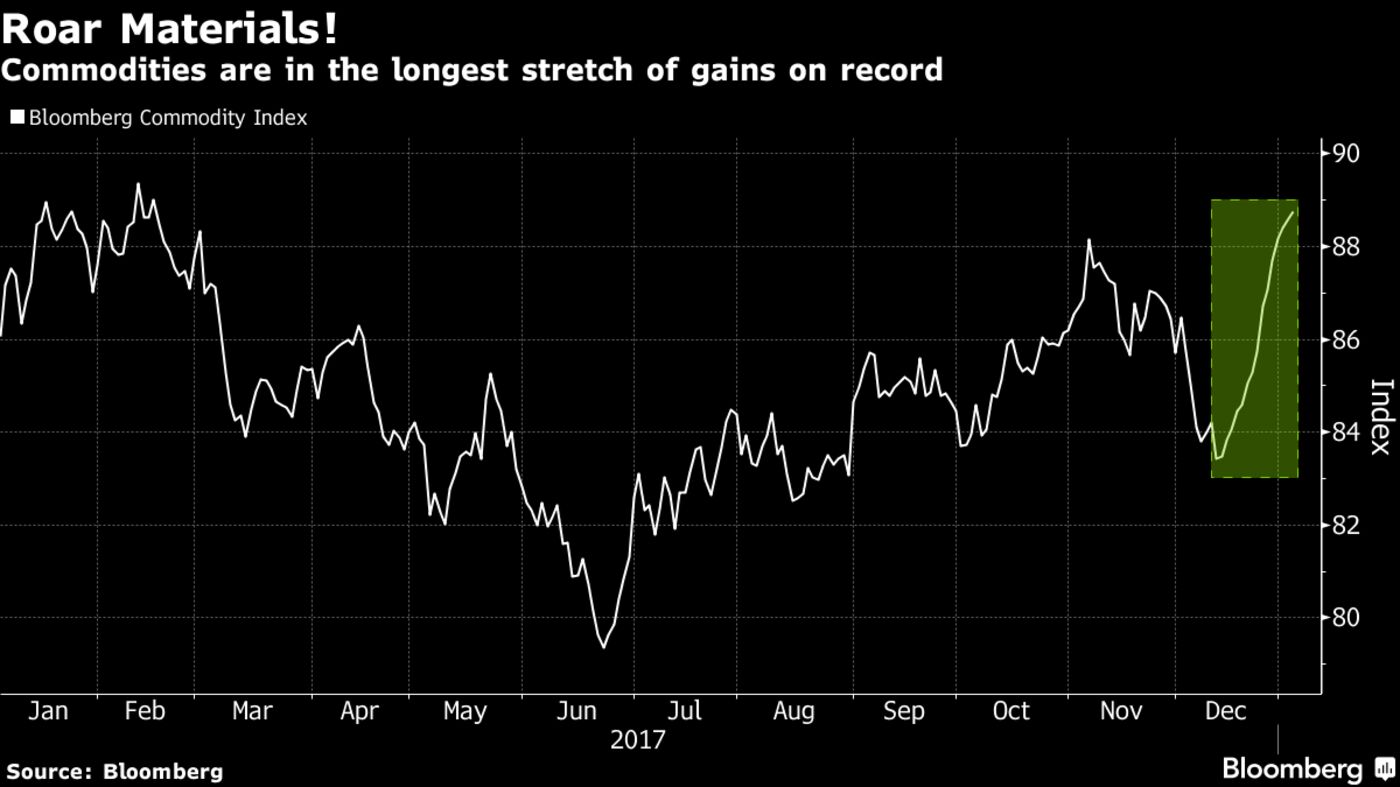 Commodities eked out a second annual gain last year and heading into 2018, banks including Goldman Sachs Group Inc. are optimistic there will be further advances. Last month, the firm reiterated its 12-month overweight recommendation.
The Bloomberg Commodity Index has rebounded 12 percent since mid-June. In recent days, the cold snap in the U.S., which helped to boost wheat as well as natural gas, also helping to lift the index. Still, prices remain well below the highs from 2008.
Copper, a bellwether for global manufacturing, climbed 1 percent after U.S. factory output data on Wednesday beat expectations. China also imposed heavy curbs on scrap imports, leaving buyers there more reliant on mined output, which analysts see tightening in the months ahead.
Record readings for manufacturing in Europe earlier in the week are also adding to the bullish mood. Chinese factories are likely to boost output to meet rising overseas demand, adding momentum to the spell of synchronized growth across major global economies in recent months.
"European and U.S. PMIs have been very strong, and when you have manufacturing growing as strongly as it is in the world's two largest economies, it's going to have a pull on Chinese exports into these developed regions," Max Layton, the EMEA head of commodities research at Citigroup Inc., said by phone from London.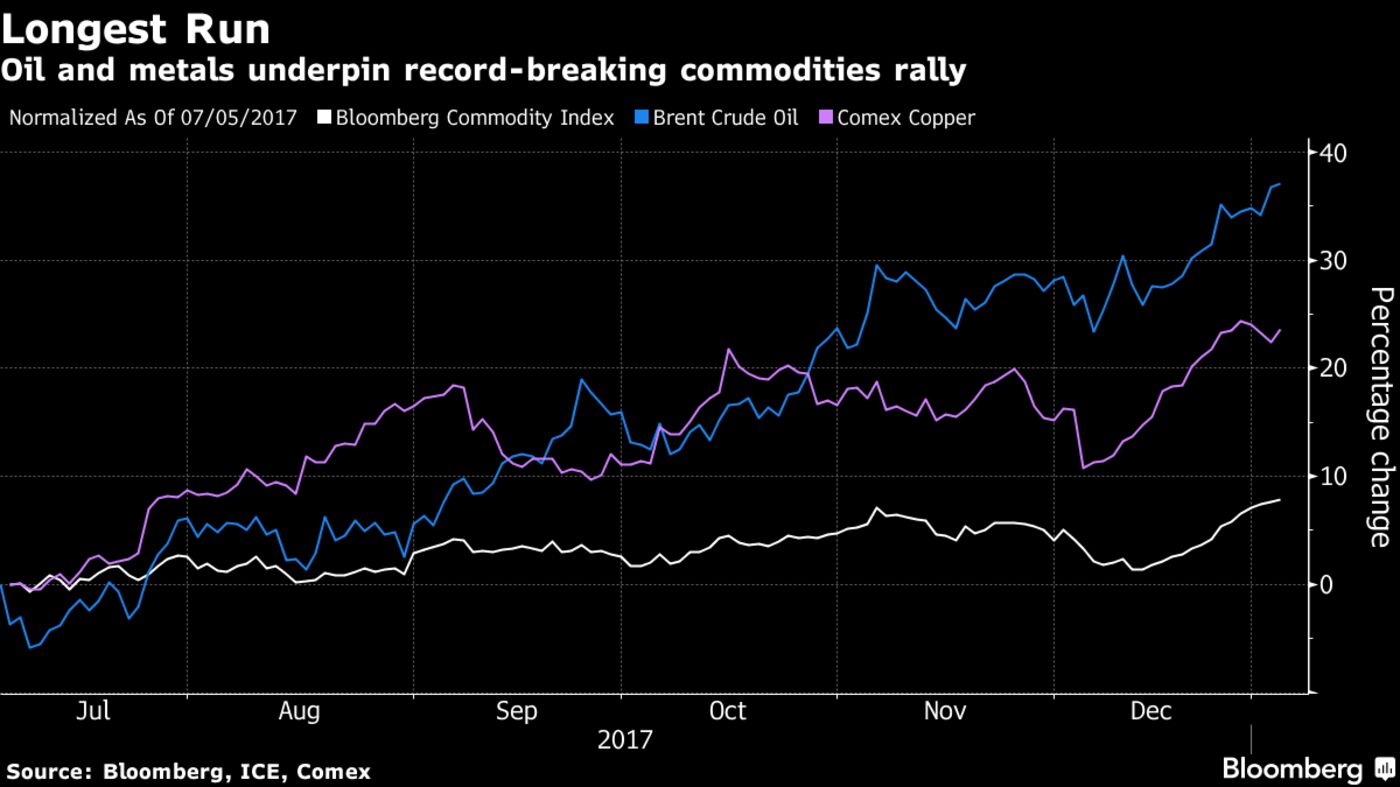 The commodity rally has ignited shares of producers. BHP Billiton Ltd., the world's largest mining company, has risen in London to the highest since 2014. BP Plc, the British oil major, posted the first back-to-back annual gain last year since 2005.
In the weeks ahead, Chinese credit data and central bank policy will be key to determining whether the gains continue, Citigroup's Layton said. "The only reluctance that people have in terms of getting more bullish on metals and bulks is that China has clearly shifted the tone from growth targets to quality over quantity, and people don't know what that means yet."
"Chinese credit numbers are going to be critical to setting the tone for the first half, and I think they're going to be fine," he said.
By Mark Burton and Jake Lloyd-Smith
— With assistance by Ranjeetha Pakiam
Source:  https://www.bloomberg.com/news/articles/2018-01-04/commodities-forge-record-setting-run-of-gains-as-bulls-in-charge